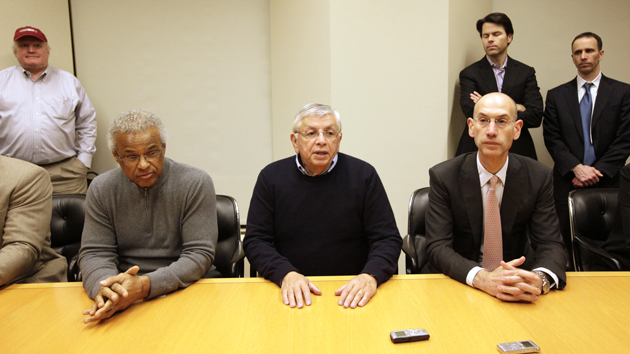 It's over. The 2011 NBA lockout is finally, mercifully over. Let's hail the victors and pity the vanquished in this rundown of the NBA lockout's winners and losers.
Winners: NBA Owners
Over the next six years, the owners succeeded in shifting more than 1 billion dollars into their pockets by negotiating their share of the Basketball-Related Income split from 43 percent in the old deal to a 49 percent to 51 percent band in the new deal. That number could grow to more than 2 billion if both parties agree to continue the deal through to its full 10-year length.
In addition to the players' 10-figure financial give-back, the owners received major concessions on virtually every important issue governed by the Collective Bargaining Agreement (CBA). Contract lengths are getting shorter from a maximum of six years to a maximum of five years for players who are re-signing and four years for other free agents, meaningfully reducing the level of financial security players feel while also reducing the burden of bad contracts on a team. The mid-level exception system is shrinking, which hits the middle class free agents hardest while helping to keep owners from overpaying for mediocre talent. The luxury tax system is getting tougher, which limits the very highest-spending teams' ability to compete and/or set the market for free agents while theoretically creating a slightly more level playing field between large and small market teams.
Whether or not you agree with the logic behind these major changes, their collective impact combined with the clear financial victory makes this negotiation a strong-arm highway robbery. And all it cost: less than 20 percent of the games in one season (and some hurt feelings among die-hard fans).
Any time you leave a negotiation thinking, "Well, this is bad, but it could have been worse," you lost that negotiation. National Basketball Players Association executive director Billy Hunter even admitted that a recent NBA offer was "not the greatest proposal in the world", yet he and the players tentatively agreed to a deal very similar to the one he bashed publicly. This happened because the players never had real leverage or good alternatives. They were squeezed and had no escape route.
But, it could have been worse. The mid-level system in the agreement provides more spending power for teams (and thus more money for free agents) than in previous proposals. The luxury tax system is significantly tougher than the one in the previous CBA, but not as draconian as a hard cap – something that the owners maintained that they wanted for the longest time – and not as punitive as earlier reports indicated it might be. The NBA also increased its spending floor for all of its teams, providing additional suitors for free agents and theoretically helping to prevent players from getting stuck on teams that totally slash-and-burn their rosters with no intention of actually competing.
Winners: Miami Heat
Miami's biggest concerns heading into the lockout: the new CBA would require the Heat to break up the Big 3 and/or the full 2011-2012 season would be cancelled, costing
LeBron James
,
Dwyane Wade
and
Chris Bosh
a year of their primes. With a season now salvaged, the Big 3 can get back to their redemption work. And, while the tougher luxury tax system and reduced mid-level exception for luxury tax payers will eventually make it more difficult to add big-name free agents, the tax system won't kick in for two years, meaning Miami doesn't need to make any major roster cuts for quite a while. Bosh, who many thought last season might need to be traded so that Miami could conform to a hard cap system, appears safe for at least two years, if not the duration of his deal. Forward
Mike Miller
,
as ESPN.com notes
, could very likely be spared because the Heat will have a full mid-level exception based on their current salary cap number this year, too.
Losers: Miami Heat
Despite the salary cap good news, the Heat are also short-term losers. The 2011-2012 season now officially bears the historical taint associated with an abridged schedule. The 2012 Finals winner, no matter who it is, will bear the asterisk of being "lockout champions." That's fine if you are the Dallas Mavericks defending your 2011 title or the Los Angeles Lakers adding to your stockpile, but if you're James, Wade, Bosh and company, your first title needs to be clean or critics will mercilessly work to invalidate it. Winning in 2012 will require Miami to win future titles to prove that their triumph wasn't a short season fluke. In other words, James and company will carry a burden into the 2012-2013 season even if he finally wins his first ring.
Until a recent minor knee tweak by Fernandez, all four NBA players made it through their international excursions in good health. No NBA player made more money playing hoops during the lockout than Williams, who took a risk in broadening his family's horizons and staying active that paid off in game checks and lack of boredom. Parker and Batum returned home to France, garnering a hero's welcome, while Fernandez did the same in Spain, where he is extraordinarily popular. All three put up big numbers and gave their fans a chance to see them during their peak years rather just a victory lap when their NBA careers are through. That's got to be an incredibly fulfilling feeling.
Losers: Anyone that gets stuck in China
The Chinese Basketball Association insisted on preventing NBA opt-out provisions in its contracts, theoretically tying any player who signed with a team in that league through March, when the regular season ends. Kenyon Martin, J.R. Smith, Yi Jianlian, Aaron Brooks, Patty Mills and others agreed to play in China and now their future is uncertain. Best case: their Chinese team agrees to release them so they can return to the United States. Worst case: they remain stuck until March, when finding a good NBA landing spot, not to mention salary number, could be significantly more difficult. The major consolation here is that Chinese teams were reportedly offering seven-figure deals, so guys that are trapped until March won't be leaving empty-handed.
We've been saying for months and months that no player needs a 2011-2012 season more than Kobe Bryant. At 33, losing a year of his career would have been a disaster, and not just because he would have lost more than $25 million in salary. Bryant is embarking on dual epic quests: passing Michael Jordan in total number of championships and passing Michael Jordan on the all-time points list. Salvaging a season gives him a much better chance at both goals.
Older vets like Kevin Garnett and Tim Duncan are similarly winners in that they save a twilight year from being extinguished.
The Portland Trail Blazers center has not appeared in an NBA game since Dec. 2009 and is now a full year removed from his most recent microfracture surgery. Even so, The Oregonian reports that Oden still doesn't have a firm timetable on an expected return to the court and hasn't yet been cleared for basketball activities. Oden is a restricted free agent and now must enter contract negotiations without the ability to prove he can play again. Contract aside, a lost season would have helped delay the return of the enormous pressure he faces as a former No. 1 overall pick; now, Oden will likely come back to Portland, where expectations are still gigantic, after hiding out for most of the lockout, only to face another round of jokes and barbs about his health.
The best way for a player to improve his standing with basketball die-hards is to show off his own unrequited love of the game. James, Durant and Jennings stood above the crowd in their dedication to playing in organized events across the country, connecting directly with fans and providing hope even when the lockout turned ugliest. Twitter and savvy sneaker campaigns – "Basketball Never Stops" and "Are You From Here?" – helped keep the positive momentum going. There's no question all three guys made lifelong fans with their actions over the last six months.
Beasley got busted for marijuana, threw an "All-Star Classic" charity game in which all the All-Stars bailed, shoved a fan in the face during a New York City exhibition, and sued his former agent and AAU coach – his surrogate father during high school – alleging major NCAA rules violations. He also hired and was then dropped by a PR firm that was working to help improve his image. To top it all off, he spoke out against his players union, saying that it was "kind of retarded" for the players to be fighting over a few BRI percentage points. Meanwhile, the MinnesotaTimberwolves now bring to camp the No. 2 overall draft pick, Derrick Williams, who will be an instant fan favorite and figures to compete for his minutes.
JaVale McGee was another memorable face of player cluelessness, leaving one important NBPA meeting early to tell the media that the players insider were "ready to fold." He quickly denied that he made that comment only to have multiple reporters post audio of his statements instantly. Not his finest hour, to be sure.
Winner: Young superstars like Derrick Rose and Russell Westbrook
SBNation.com notes that players who excel during their rookie deals -- such as 2011 MVP Derrick Rose and 2011 All-Star Russell Westbrook -- stand to gain millions of extra dollars in attainable salary thanks to new rules that will reward players who produce at an all-NBA level while on subsidized rookie contracts. Elite players have way outperformed rookie contracts for years and deserved this extra financial incentive.
Losers: Small-market teams clinging to superstars
As the Arizona Republic notes, the rule that would have banned players from signing extend-and-trade contracts a la Carmelo Anthony and the New York Knicks last season was not included in the final CBA. So superstars who are impending free agents like Orlando's Dwight Howard and New Orleans' Chris Paul still have the opportunity to force their way out of town, should they choose to do so. You can hear the rumor mill doing extra laps around the track and stomach crunches to whip itself into midseason form.
Winners: Basketball Video Mix Websites
HoopMixTape.com and other highlight-reel videographers saw major upticks in traffic and interest during the summer pro-am and fall charity league circuits. Their ability to take high quality, professional footage and cut it together seamlessly in a matter of hours provided much-needed hits for basketball junkies worldwide in nearly real-time.
The NBA's decision to strip its websites of references to players and to start a Twitter account to aggressively push its labor message to media members, and even players, came off petty, heavy-handed and way too Big Brother in an arena that is supposed to be about fun, not business. The league has some serious fence-mending to do, especially with its core audience. It's unclear whether the league knows that or not.
Winners: David Stern and Billy Hunter
NBA commissioner David Stern and NBPA executive director Billy Hunter are begrudgingly buried here at the end. After months of cringe-inducing public statements, snail-slow negotiations, legal threats, condescending comments and all the rest, these two old adversaries actually struck a deal, which not only saves the league they serve but also manages to protect their own legacies from irreparable damage.